The last time I did a tutorial was a good 9 months ago. Wow. I could've given birth over that span of time…
I did this look for a movie outing over the weekend. It's a simple but great way to add color to a natural look. You can substitute teal with other bright colors such as green, purple, yellow etc. Darker shades would work too but there will be less contrast with the black liner.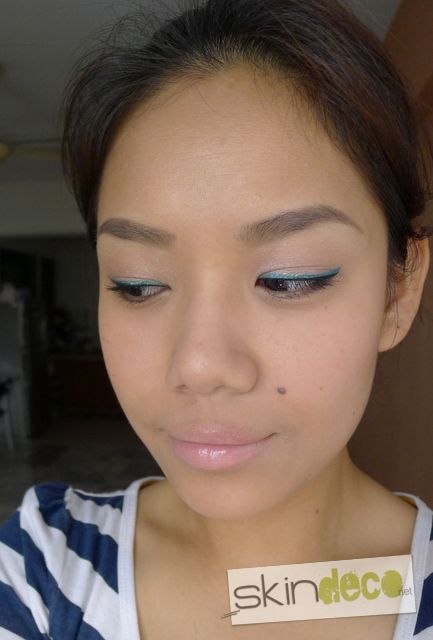 Items Used:
Anna Sui Spot Concealer in 03, Lancome Blanc Miracle Powder Foundation in O-03, Urban Decay Primer Potion, MAC Paint Pot in Vintage Selection [base], Everyday Minerals Blush in Waffle Cone [base], Make Up For Ever Aqua Cream in #21 [liner], MAC Eyeshadow in Double Feature 4 (Teal) [liner], Dolly Wink Liquid Eyeliner Pen [liner], Urban Decay Eye Shadow in Darkhorse [bottom liner], MAC Eyeshadow in Ricepaper [highlight], Shu Uemura Hard 9 Pencil in Seal Brown, Maybelline The Falsies Mascara, Shu Uemura Blush in M Orange 55, Korres Jasmine Lip Butter Glaze
When you list every single product out it does look overwhelming, doesn't it?
I kept the base makeup light with just some concealer on my dark areas and then set everything with a sheer layer of powder foundation.
After prepping the lids with an eyeshadow primer, I applied a nude pearl cream eyeshadow and set it with a matching eyeshadow (though technically I used a blush). With the teal cream eyeshadow, I created a winged out line as the base then applied teal eyeshadow over the base.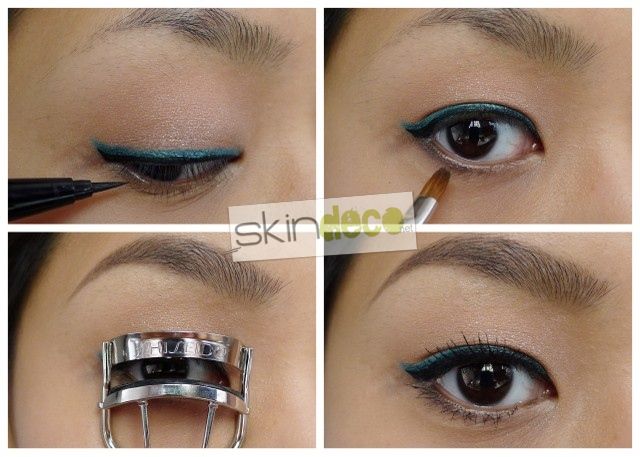 Following the shape of the teal line, I applied the black liquid eyeliner closer to the lash line. After that, I applied a shimmery dark brown eyeshadow just to define the bottom lash line and applied a warm-toned highlight right under the brows. To finish the eye makeup, I filled in my brows, curled my lashes and applied mascara.
For the cheeks, I used a peach-colored blush which. I tend to prefer pairing teal eyes with a warm blush. On the lips, I used a sheer light pink gloss.
If I'm not going anywhere during the weekend, I'm usually completely makeup-free. How about you?